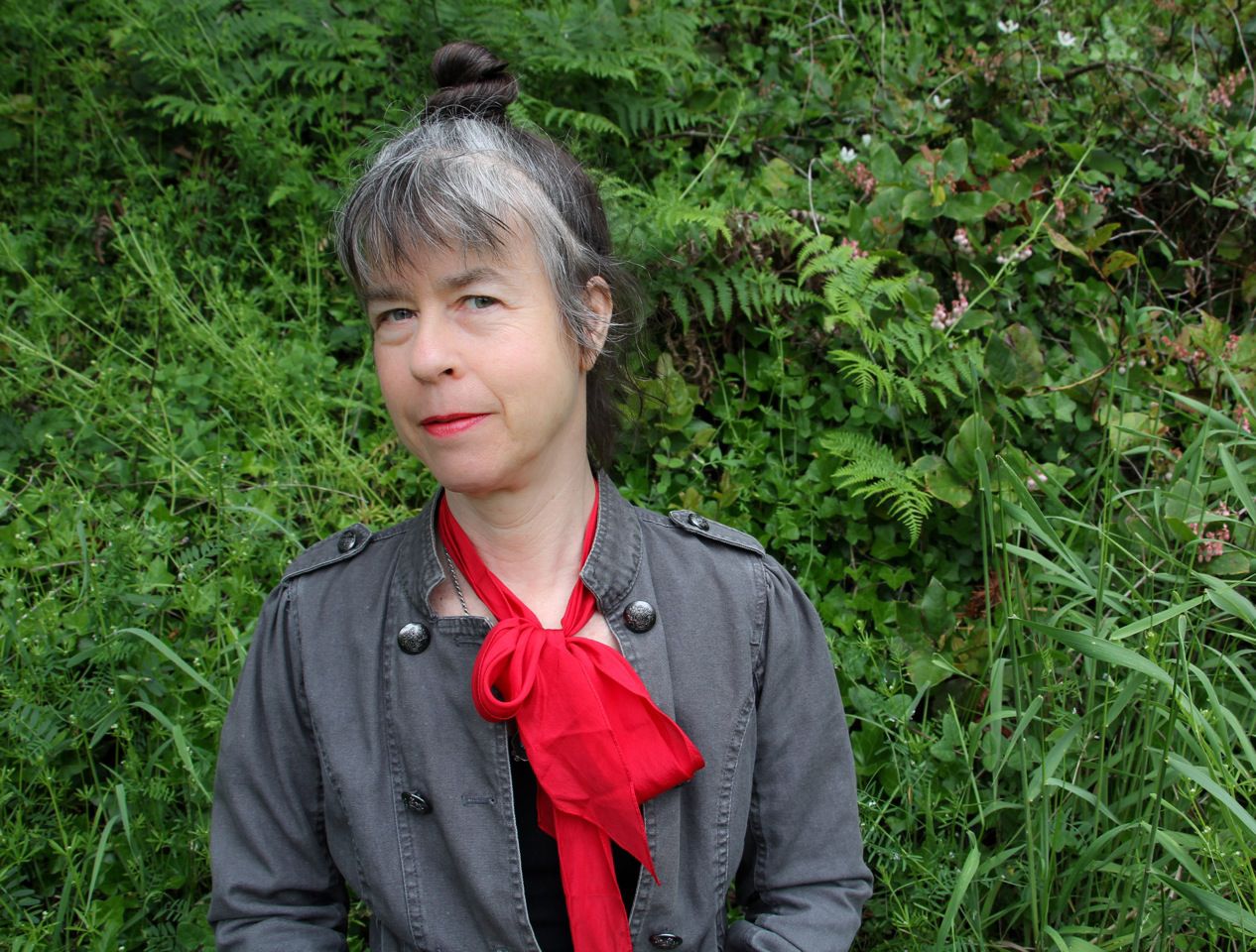 Centrum artist in residence Remedios Rapoport will be sharing her mixed-media art with the community May 26.
The reception is set for noon to 4 p.m. in Centrum's artist studio building, No. 205 at Fort Worden State Park.
Rapoport, who has painted since childhood, focuses on dialogue about the world and culture in her work.
Sign Painter Exhibit Shows Off Women's Handiwork
Artist Remedios Rapoport's Gentle Revolution Mobile Installation hangs from the ceiling in the Chicago Art Department in a gallery for women sign painters.
Portland State will also get in on the action, with several Design Week events promoted by the university. The PSU graphic design department's Show and Tell series will feature designer Faythe Levine at the Art Building on Thursday, Oct. 11. On Friday, Design Week will join with the graphic design department to host a sign painting workshop led by local artist Remedios Rapoport.
Rapoport is a Portland-based fine artist and sign painter with over 30 years of experience. She explained that her workshop will focus particularly on hand lettering in sign painting.
"Students will be able to take home knowledge and materials for the continued practice of sign painting," Rapoport said. "They'll come away with a greater understanding of what it takes to create hand-painted sign work, and what the layers of communication are within sign work as an art form. We'll also look at how colors and shapes can join with cultural or historical references to communicate qualities and emotions within sign art."
Foster's art scene has a pulse. It has for a while. Look no further than the two art galleries that have opened in the last year (with a third to open in the near future), the murals that abound on Foster, and the weekly craft night at Bar Carlo (that is now eight years strong). The evidence is there. And we want to share. Over the coming months we plan to bring Foster's sometimes hidden, and sometimes obvious-but-overlooked art scene to the forefront. Today, FosterPowellPDX contributor, Lindsay Beeson, introduces us to neighborhood artist, Remedios Rapoport.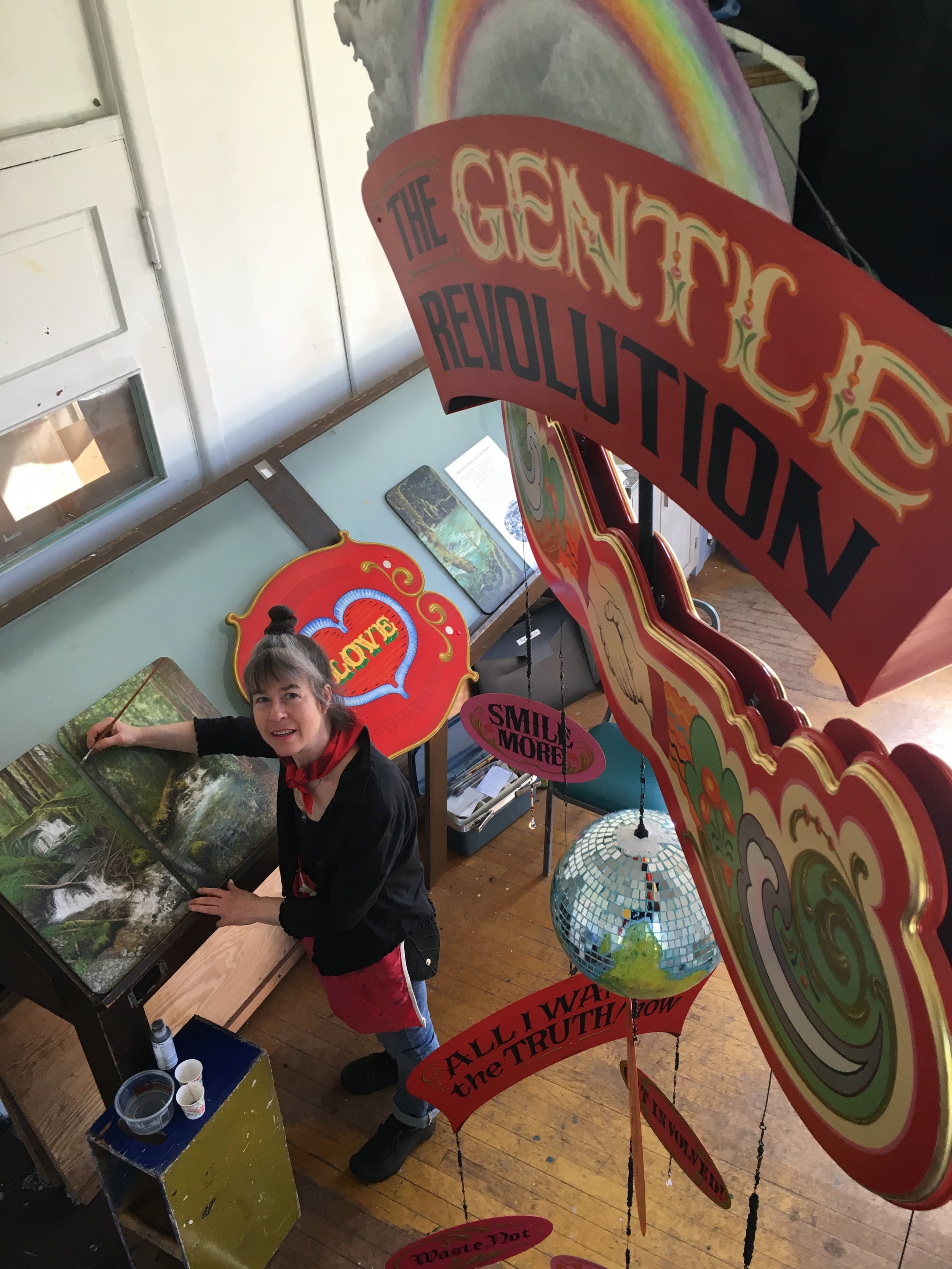 Open Studios with Remedios Rapoport

Saturday, May 26, 2018
12-4 p.m. Bulding #205
Fort Worden State Park
"Finished pieces and those in progress will show the various materials and techniques I use to realize my creative intentions," Rapoport said of the upcoming open studio. Rapoport has been a longtime resident of Portland, Oregon and is new to showing her work in Port Townsend. Her love of this area and in particular, the Olympic National Forest, has informed her recent body of work which she calls Sacred Earth/Holy Water.
Rapoport's work evolved into mixed media paintings and sculptures after spending her childhood as a pictorial and sign painter.
"My intention is to attract viewers with visual eye candy, that stimulates minds across cultural and political boundaries, for a healthier world, for all people of the world." -Remedios Rapoport
She will also have her modular kinetic sculpture, The Gentle Revolution Mobileon view (pictured above). This kinetic sculpture evolved from The Gentle Revolution Manifesto, a concept to promote positive change. The mobile has traveled since 2007 to Portland, Seattle, Boston, and Chicago as part of solo exhibitions and socio/political group shows.
Rapoport's work is hand drawn, cut and carved. It is then painted and gilded on panels or constructions of wood and aluminum. Each layer is hand rendered, from sketches to patterns, with various materials in a constant process of adjustment. Rapoport learned the trompe l'oeil effect she uses from studies of Argentine Filete Porteño. The flowing abstractions of acanthus leaf scrolls create relationships between shapes with color and tension for emotional communication. By framing images and messages with extreme beauty and gilding, she presents them as sacred objects, giving value to the concepts.